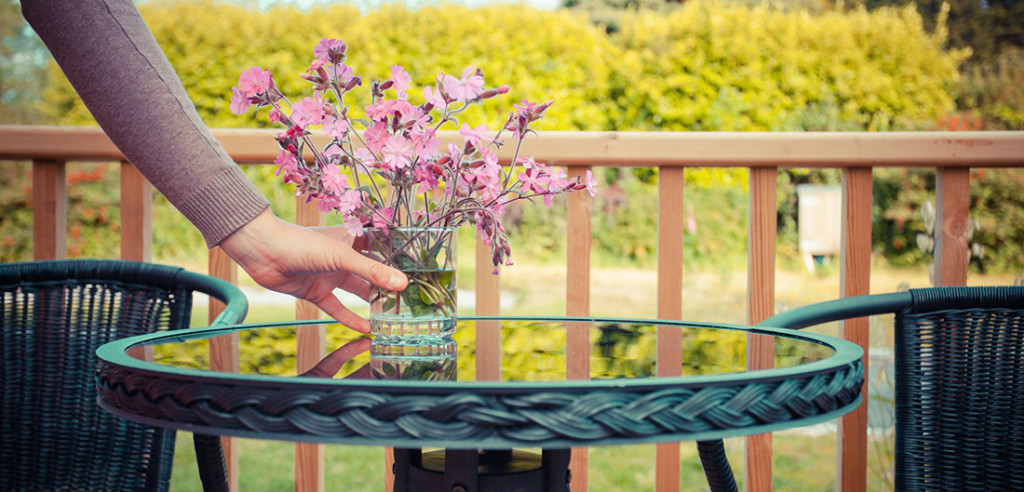 Your backyard is an extension of your home—and you want it to feel as inviting outside as it does inside. When setting up your outdoor living space, you get to choose everything from the furnishings to the lighting, even the greenery and the overall aesthetic.
Let your backyard be a reflection of your interests and you'll always feel comfortable in it. If you love cooking, consider adding an outdoor kitchen. If entertaining is more your speed, add an outdoor fireplace and cozy furniture. We've got tips for both to help you make your space as welcoming (and safe) as possible.
Make sure your space is well lit.

While summer days are long, you can extend the time you spend outdoors by adding some well-placed lighting. This could include motion lights along the house and solar lights along pathways or to mark the edges of landscaping.

Spring for comfy furniture.

Or if you already have wicker or

wrought iron furniture, pick up

some pillows to make it more

comfortable.

Build even pathways.

Uneven pathways can spell danger. If you are using brick or stone pavers, make sure the ground is level when you lay them. Ensure no edges are sticking up, so tripping hazards can be avoided.

Create conversational seating.

Center your seating around a focal point (like a fire pit) so everyone has a place to settle and chat near each other.Just make sure you're at least 10 feet away from your house and away from hanging branches or wooded areas.

Don't be afraid to decorate.

Bring some decorations outside to liven up the space. Outdoor candles, decorative statues and trinkets all help create a homier space.

Add an umbrella.

An umbrella to a patio is what a rug is to a living room; something that can unify your space.

Put your plants to work.

Did you know that your plants can add more than greenery to your outdoor space? Lemongrass, mint and lavender help deter mosquitoes; petunias repel beetles and squash bugs; and basil is multi-functional at deterring mosquitoes and flies (and is great for cooking, too!).

Dress up what's underneath it all.

Choose an outdoor rug to freshen up your porch or patio. It will add a bit of comfort and color to your space.
Before you're ready to relax and enjoy your new outdoor space, make sure to check in with your ERIE Agent (especially if you've made significant upgrades or improvements). You'll want to make sure your outdoor space is protected too.