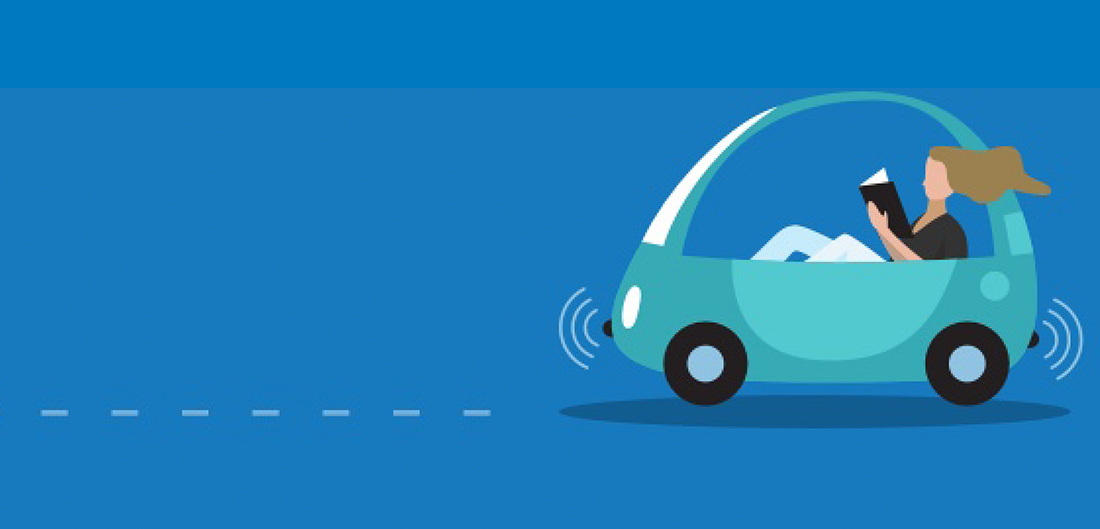 If you had a self-driving car, how much attention do you really think you'd need to pay to the road?
That's what we wanted to find out when we asked nearly 3,000 licensed U.S. drivers in a new national survey to coincide with Distracted Driving Awareness Month.
The survey, commissioned by Erie Insurance and conducted online by Harris Poll, finds almost six in 10 (59 percent) think that self-driving cars will eliminate the problem of distracted driving.
We're still years away from a future where self-driving cars are the norm. But that hasn't stopped these survey respondents from making plans for what they'd do with their downtime behind the wheel of a self-driving car.
Survey Says: Nap
Sleeping promises to be a popular pastime in self-driving cars. Roughly half of licensed drivers (51 percent) say one of the biggest advantages of self-driving cars would be the ability to go longer distances without worrying about being drowsy while driving. About one-fifth of licensed drivers (19 percent) say they'd sleep or nap while operating a self-driving car.
How else would people spend the extra time? Other survey responses include:
Texting (34 percent)

Checking and sending emails (34 percent)

Reading (27 percent)

Playing video games (11 percent)

Meditating (10 percent)
A small percentage admitted they'd use their commutes to – ahem – get a little cozy. Seven percent of licensed drivers say they would engage in "romantic activities" while operating a self-driving car, with men almost four times more likely to do this than women (11 percent vs. 3 percent, respectively).
When asked to write in what they would do, a few others said they would pray.
One honest driver admitted he'd be "a nervous wreck."
Slow Your Roll
We can daydream all we'd like, but the reality is a future with totally autonomous vehicles is likely a long way off.
"The term 'self-driving car' suggests I can hop in my car, enter a destination and have it take me from point A to point B. But that car doesn't exist yet," said Adrian Lund, president of the Insurance Institute for Highway Safety.
Currently, driving distracted has stark consequences. In 2013, Erie Insurance analyzed police data and found that daydreaming was the most fatal distracted driving behavior behind the wheel. And according to the National Highway Traffic Safety Administration, human error is a factor in 94 percent of car crashes.
"While we believe that fully autonomous vehicles will greatly reduce that number, it's hard to predict how soon they will be widely available," said Cody Cook, Erie Insurance vice president and product manager of ERIE's auto department. "Current technology is going a long way to keep us safer on the road, but the last thing we want is for people to become over-confident as this technology continues to evolve. Unfortunately, our survey finds that many people are getting ahead of themselves—making plans for what they'll do in the car instead of paying attention to the road."
Rush Hour Happy Hour?
The prospect of self-driving cars also raises some interesting questions about a serious topic: Driving under the influence. It's hard to speculate how current drinking and driving laws would change (or not change). Still, 13 percent of our survey respondents believe you wouldn't get cited for DUI/DWI if you have a few drinks and then operate a self-driving car.
One-third (33 percent) believe that one of the biggest advantages of self-driving cars will be the ability to get home safely if under the influence of drugs or alcohol.
However, a much smaller percentage of those 21+ (5 percent) admit that they would drink alcoholic beverages while operating a self-driving car.
What's in a Name?
What are we calling this new class of vehicles, anyway? "Self-driving" or "autonomous" are the current front-runners. But those terms largely ignore the fact that car operators may still need to pay attention to the road and be ready to take control.
So, we posed the question to our survey respondents: What else should we be calling these new vehicles?
Many of the suggestions revealed drivers' fears about the safety of self-driving cars. Responses included:
"Boy are you lazy"
"Potential disaster car"
"Bad Science car"
"Take your chances car"
"Accidents waiting to happen car"
"While some of the responses may have been written in jest or taken on a lighthearted tone, if our survey gets people talking about a serious issue like distracted driving, it will have served its purpose," said Cody. "We hope people will remember that despite technological advances, it's still critical—for now, anyway—to keep your eyes on the road, your hands on the wheel, and your mind on what you are doing."
Methodology: This survey was conducted online within the United States by Harris Poll on behalf of Erie Insurance from February 28 – March 2, 2017, among 2,932 U.S. licensed drivers ages 18 and older. This online survey is not based on a probability sample and therefore no estimate of theoretical sampling error can be calculated. For complete survey methodology, including weighting variables, please contact Leah Knapp.