When It Feels Like Sci-Fi's Come to Life…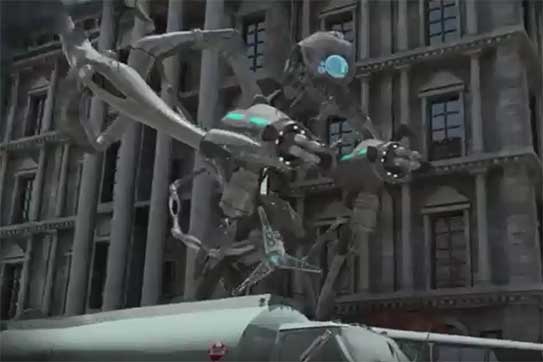 In the not-so-likely future that aliens would attack our world, the issue becomes much bigger than an insurance one. In times like these (think war, flood, wide-spread famine), the government becomes the saving force.*
But if you're having one of those days when the last things you expect are invading your life—your luggage got smashed while you were traveling or debris shattered your windshield—it might feel like this sci-fi flick has come to life:
Let's break it down to see what insurance would cover in real-life (as opposed to sci-fi) circumstances:
Fleet vehicle in an accident
Managing a fleet of vehicles—and their drivers—comes with a huge amount of responsibility and risk. Most business leaders and fleet managers know this and actively work to reduce the risks they have on the road. Unfortunately, accidents do happen, and ERIE's commercial auto policies are designed to keep you protected from the financial implications of those accidents.
So, for example, if your truck was T-boned by an oncoming bus, outside of an alien invasion being the root cause, ERIE would have you covered.* (See your policy or talk to your ERIE agent for terms and conditions.)
Windshield breaking
Whether your windshield is broken as part of a larger accident (like rolling over), or simply by a rock hitting it from the road, the Erie Insurance glass program, which is standard in most ERIE auto policies,* would have you covered (See details). It connects you to a nationwide network of qualified professionals who can help you repair or replace your windshield quickly.
Fire in an apartment building
If you're a landlord, an ERIE commercial policy can help you cover your property in case of fire or other damages.*
If you rent, an ERIE renters policy can help you cover your personal belongings – things your landlord's insurance doesn't cover (like that vintage comic book collection or big screen TV).* So if your neighbor's dinner catches fire and spreads to your place, or lightning strikes and zaps your electronics, you'll have some help in replacing those damaged items.
Luggage Gets Smashed
What if your luggage is damaged by something other than an alien? Good news: an ERIE homeowners policy protects you no matter where you are in the world. So fear not if you're vacationing in Timbuktu and another car smashes into a taxi that's carrying your luggage in the trunk.*
Learn more about the ways ERIE can cover you and contact Duckworth Insurance.
—————————————————————————————
*Terms, exclusions and conditions apply. Damages incurred due to acts of war are typically excluded from auto, home and commercial policies. See your policy for details or talk to your ERIE agent.
Erie Insurance Exchange, Erie Insurance Co., Erie Insurance Property & Casualty Co., Flagship City Insurance Co. and Erie Family Life Insurance Co. (Erie, PA) or Erie Insurance Co. of New York (Rochester, NY). Go to erieinsurance.com for company licensure and product details.